inSina Program
InSina proposes you a program based on 3 options:
Chinese courses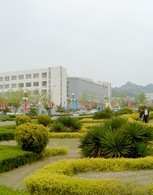 Chinese courses in small groups (no more than 7 people, to allow to the teacher to take care of each student), one part in Qingdao university's classrooms, the other part outdoor (you go shopping with the teacher, learn how to order meals in restaurants ...). 20 hours a week.
The teachers
do speak english and know how to teach Chinese to beginer and advanced level's students. We want to offer you another teaching way, different from the classic boring one.
Price
330 EUR/month.
Homestay
Share an appartment with a chinese family who lives in the center of Qingdao. This is a rare opportunity to know and understand the real China of everyday's life. Thus, you can pratice your Chinese as often as possible and, when tired, you can enjoy a good bed in your own room. In the morning, taste the unusual chinese breakfasts and in the evening, share the dinner with the family. Chinese families usually have 3 people, 2 parents and 1 child, who are able to speak English if you have any problem.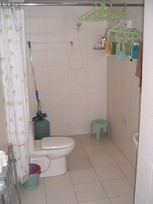 The accomodation
provides : a bathroom with hot water, a fridge, a microwave, a washing machine, a TV, a DVD player, and a high-speed Internet connection. We first select chinese families who furnish private bathroom and air-conditionning, but it's not the case all the time. Breakfast and dinner are included in the price.
Price
150 EUR/month (some families would welcome someone who could teach them his/her mother tongue 1 hour/day).
Cultural activities
Cultural activities 1 day/week and two afternoon. For instance, visit of the natural park of Laoshan, beer festival, boat trip to the huangdao beach,chinese cooking lessons, calligraphy, Tai Chi Chuan, kite, etc.
Price
250 EUR/month
Variations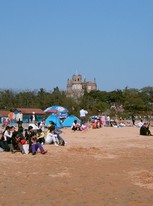 Live in a flat
You can rent a flat on the Qingdao seaside, or an appartment in the center of the city.
Live in Hotel
We propose you to book a room in a nice hotel. In low-season period (October to April), it could cost you between 12 and 18 EUR/day, in high-season period, 20 to 30 EUR/day. "Backpackers" rooms cost 5 EUR/day.
Mini-trip
If we have a minimum of registered people, a 3 days mini-trip is organised to Taishan, one of the five sanctified mountains in the country, near to the Confucius sanctuary, Qufu and its thousands-years forest.
Application
Register via the inSina application form, we will contact you within 36 hours by E-mail.